A Critique on Eliasson at the Tate

Throughout this text an exploration into an artist's ironic methodology, a term coined resultant of research, will become evidenced through the evaluating of artist-self-proclaimed descriptive biographies and press releases. Scrutinising further an exhibition, unveiling an evident display of failure regarding interactivity, inclusivity, spatiality and accessibility. The dichotomy of press released documents regarding exhibition events and gallery experience along with primary research will be the crux of this essay.
A prestigious contemporary artist known for his immersive installations had one of his largest exhibitions to date at the Tate Modern from July 2019 to January 2020. Olafur Eliasson, an Icelandic-Danish born artist, creates larger than life installations. His creative practice has engaged in the modelling of experience for decades, increasingly plunging the visitor into disorientating environments that aim to shift to the human Umwelt.

[1]

An artist known for utilising the technique of spatial manipulation his work has received a colourful array of reviews and criticisms. Suggestively, rightly so, his work is of creative sensory genius. This essay will focus on the finalisation and execution of his exhibition In Real Life (2019-2020), hosted at the Tate Modern.
John Dewey, an American philosopher and psychologist known for his research regarding aesthetics and education, will be one of many cited references when conversing about the ideology of experience. This essay will focus on two of Dewey's texts; Art as Experience (2005) and Having an Experience (1934).  Although published many years ago; Dewey's texts are far from outdated and are eligible for application to the contemporary art world. Poignant especially when conversing about the immersive trait Eliasson purportedly incorporates.
In Real Life (2019-2020) was curated by Mark Godfrey and his assistant curator Emma Lewis. Sources suggest the pair worked closely with Eliasson's Berlin-based studio to realise the exhibition.

[2]

Consideration of the space and the display of the exhibition enables discussion the varying criticisms made regarding the exhibition and its morale. The institution's ethics shall be discussed as response to the criticisms, analysing the Tate Modern's rhetoric and the galleries intent. Additionally, the exploration of who the true curator is (whether it be artist or curator) will be used in discussing the politics of the institution and the gallery as a construct. Expanding on the ideology of critique this essay will reference Brian O'Doherty's book, Inside the White Cube: Ideology of the Gallery Space (1986). Many sections of his book will be applied to theorise and question the authenticity of the gallery space and how the gallery represents the artwork.
            Eliasson's installations utilise technique that alters our bodily experience and understanding of the environment we become situated within. As visitors to the gallery, we situate ourselves amongst his depiction of reality derived from his perspective. His understanding of the world in which humans exist, utilise and interprets the narrative of climate change and other environmental activist inclinations are evidenced in his creative work. He reproduces and scientifically rectifies dioramas of world phenomena. It must be understood, that as visitors to the galleries institutional construct that house his work temporarily, are essentially only viewing Eliasson's perspective. Although experience is subjective others can also at least encounter such phenomena or event – and go through it themselves.

[3]

Eliasson erected and displayed environmental conversation at the Tate Modern but with a very subjected understanding. His attempt to exude this ideology of sensory experience through these industrialised-momentous works portrays valiant effort but categorically failed regarding immersivity and accessibility.
The exhibition In Real Life (2019-2020) showcased forty artworks

[4]

inspired by naturalistic narratives. His inspiration is mainly derived from his time spent in Iceland; his research into geometry; and his ongoing investigations into how humans perceive and shape the world around them.

[5]

The Tate Modern housed the exhibition, displaying the main body of art on one floor spanning across fourteen rooms. The floor plan supplied by the Tate Modern as an online downloadable floor plan (fig 1) depicts a suggested route for manoeuvring around the space as well as the titles indicating the exit and entrance. Throughout this downloadable document, each of the rooms are identified with numerical figures accompanied by fragmented illustrations and brief descriptions of the artworks. The main floor was dedicated to his larger installations, yet his exhibition expanded out of the gallery space and navigated downstairs into the Tate's Terrace Bar, where visitors could find Eliasson's kitchen replica from his studio in Berlin, serving an array of foods and the décor plastered with his very own artworks. One piece created by Eliasson was situated outside of the gallery entitled, Waterfall (2019) (fig.2) which displayed an industrialised waterfall and was of construct utilising scaffolding and a water circulated pump system installation. The artwork comments on the ideology of natural reproduction, exposing the framework of construction elements enabling the visitors to understand the mechanism behind the phenomenon.

[6]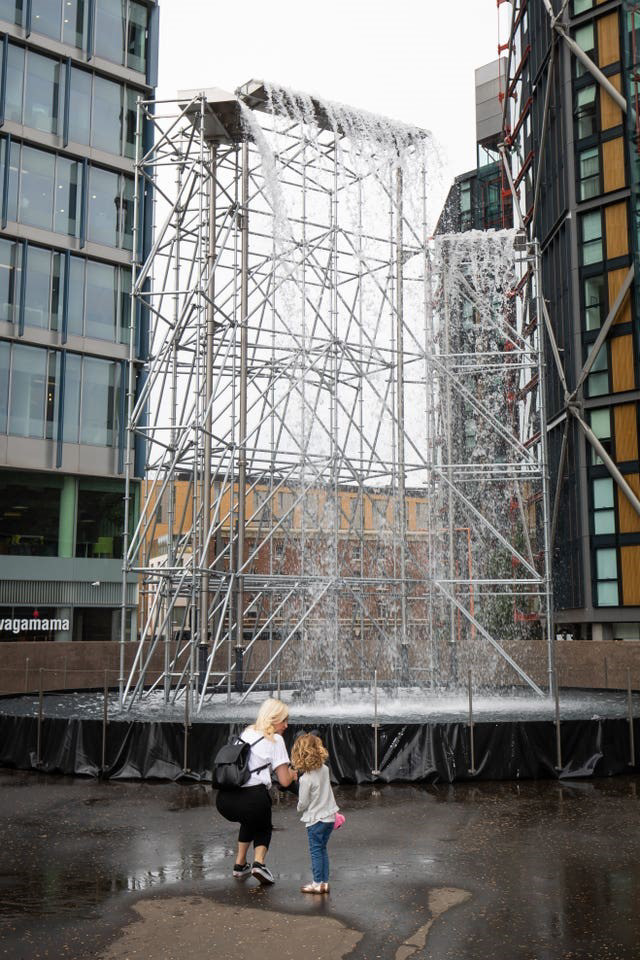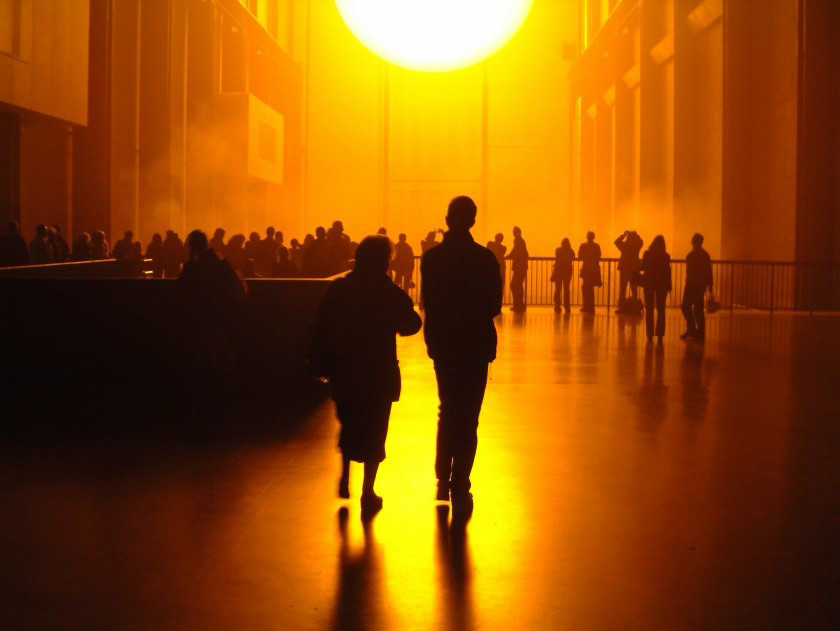 Before proceeding with this essay an insight should be gained regarding ironic methodologies and criticism. The analysis and inclusion of press released documents by the gallery themselves and other means of advertisement are crucial elements for cementing discussion about the failure of approach regarding an exhibition such as this. The Tate website has archived a press release that highlights and entices the budding art visitors by emphasising the prestigious nature and otherworldly experiences this artwork allegedly exemplifies. The press release conversed about a past work Eliasson exhibited within the Turbine Hall, that being, The Weather Project (2003) (fig.3) claiming it marked a turning point for contemporary art, due to the transformative aspect the installation harboured, creating a social space where sculpture was bound up with the experience of being together with other visitors.

[9]

The Tate's persuasive tactic continued by elaborating their comments:
In the 16 years since, Eliasson has been celebrated internationally as one of the most exciting artists working today…
Olafur Eliasson: In real life
 offers unmissable experiences and shows how Eliasson brings to our attention some of today's most urgent issues.

[10]
Evidently by the galleries demeaner, Eliasson is essentially placed upon a metaphorical pedestal of phenomena, a front runner for the contemporary art scene. It is not an unknown character profile for Eliasson to be categorised as an influential artist particularly when conversing about phenomenological narratives. In the book, Experience (2016) by Caroline A. Jones, David Mather and Rebecca Uchill, Eliasson is described as

an artist engaged in modelling experience for decades.

[11]

This would suggest that as an artist, he has essentially morphed and altered the inclusivity of phenomena and displays this detailing in a magical and iconic way. This leads to proactively discussing his creative methodology, delving into the whys of his creative process. 
Eliasson's artist methodology is concerned heavily with sensory experience and how one interacts with his artwork. Dewey wrote in his essay, Having an Experience (1934) that:
Experience occurs continuously because the interaction of live creature and environing conditions is involved in the very process of living.

[13]

 
A brief statement that highlights the process of how experience occurs. Typically experience, resultant of an event or phenomena, quite often is associated within the philosophical realm of phenomenology. An experience isn't only resultant of a visual encounter, it can also be a culmination of sensory overload in response to an environment.  Eliasson's thought process through the way in which the beholder's body interacts with the space is evident through  conversations between the artist and a wide range of collaborators including architects, musicians, chrono biologists and neuroscientists.

[14]

 

For the sake of this written text, instead of labelling the subject as simply a spectator or visitor, the audience will from herein be referenced as the beholder. The reasoning for the change in terminology relates to the ideology of experience. A spectator or visitor by my definition are terms suggestive of looking from the outside as opposed to looking from within. The beholder relates to the ideology of encapsulation and immersivity. When conversing about subjectivity and understanding, utilising a term that concerns itself with the idea of human encounter is more appropriated.
Throughout many interviews Eliasson talks mainly about perception and sensory communication that are aimed to be exemplified when situated within his installations. In an interview with Anna Enberg-Pederson, titled, The Whys and Hows of my Art Making (2018) Eliasson states:
I am keen to make works that exist to be seen while also inviting reflection on how they are seen.

[15]
Suggesting the necessity for attempting to situate the beholder within a state of self-realisation and supposedly an aspired state of self-reflection. Eliasson often utilises reflective surfaces and materials to create an illusionary dichotomy of spatial expansion with the reality of limited parameters of the constructed gallery space. This attempt of spatial manipulation was evidently present at the Tate Modern during the exhibition. This forwards conversation the first artwork a perspective of criticism that acts as a catalytic element of failure regarding ironic methodology and display this element being, inaccessibility.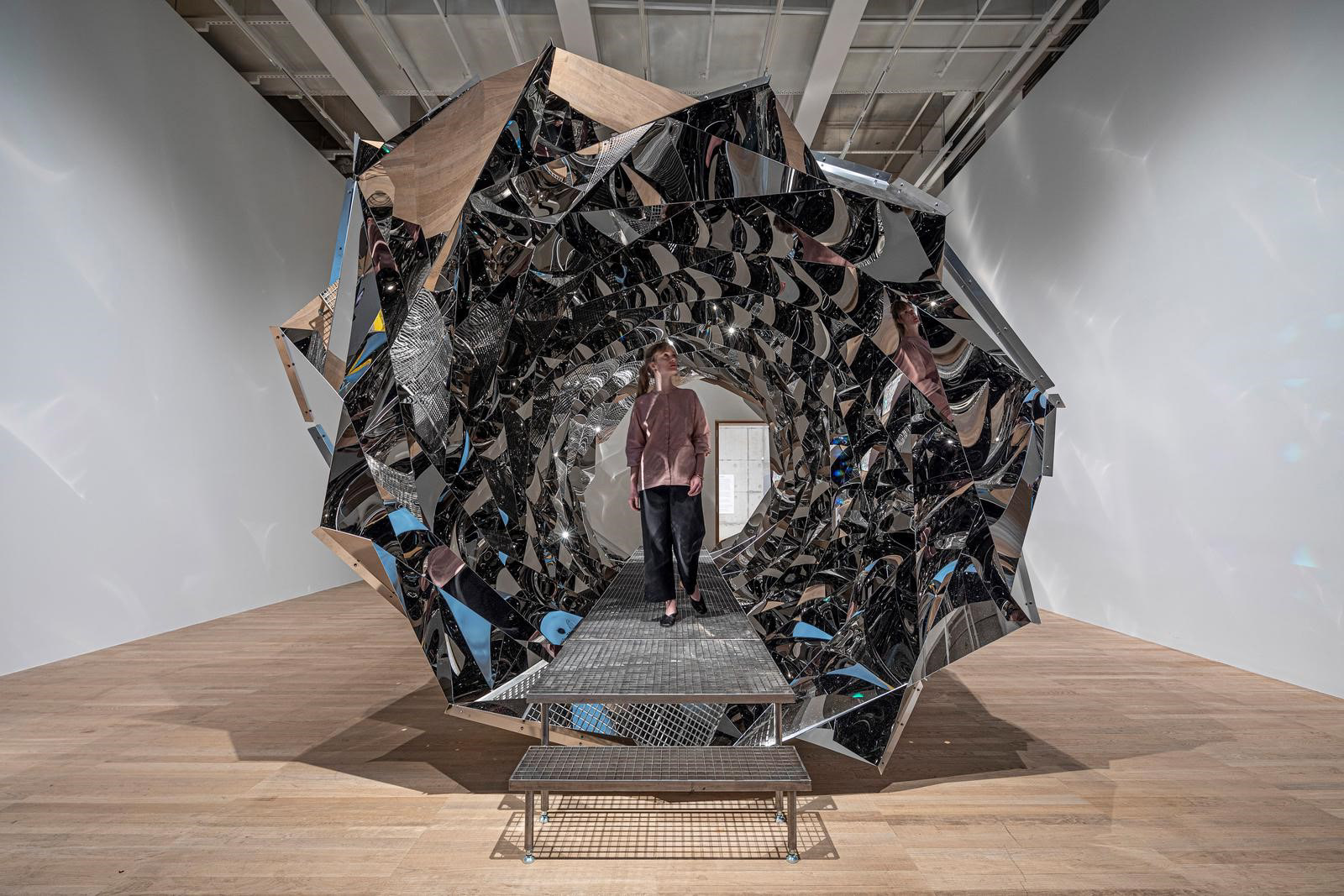 Your Spiral View (2002) (fig.4), a spiralised tunnel of reflective geometry, sat situated within an interconnecting room displaying three artworks in total. The artworks cylindrical mass displayed vertically across the area dimension of the room, allowed for beholders to experience the mirror concoction by the ascension of two steps, walking through the eight metre long strip

[16]

, then descending another two steps in order to complete the viewing. Guarded and instructed by a singular gallery representative; this sculptural formation attracted a large crowd. Eliasson stated in an interview when discussing about this piece with the Architecture and Art magazine, Dezeen that:
I think we can reconsider the way we use our eyes and what we take for granted that every floor is flat, every wall is ninety degrees to the floor and to the ceiling…Maybe that is a construction. Maybe that's not how it should be. Maybe reality is relative.

[17]
Reality is relative is an interesting perspective Eliasson continued to include throughout his interview with Dezeen. This interpretation of reality explains a lot regarding this mere importance and desired outcome to change or manipulate spatiality. This statement suggests space is subject to change, unless it was is absolute reality. When entering the spiralised tunnel, it became apparent what Eliasson was trying to achieve, however, an unsuccessful sculpture on reflection. To encounter the work; one would have to wait to be instructed to walk through at an ushered pace in order to accommodate for the influx of beholders. When half-heartedly immersed within this mirrored reality, it was lack lustre. Self-reflection was the only evident altered image, space remained still. This confrontation of inclusion of self-image realised by the medium, detracts away from the understanding Eliasson stated regarding the space of a gallery. This was not however, the only criticism this artwork welcomed.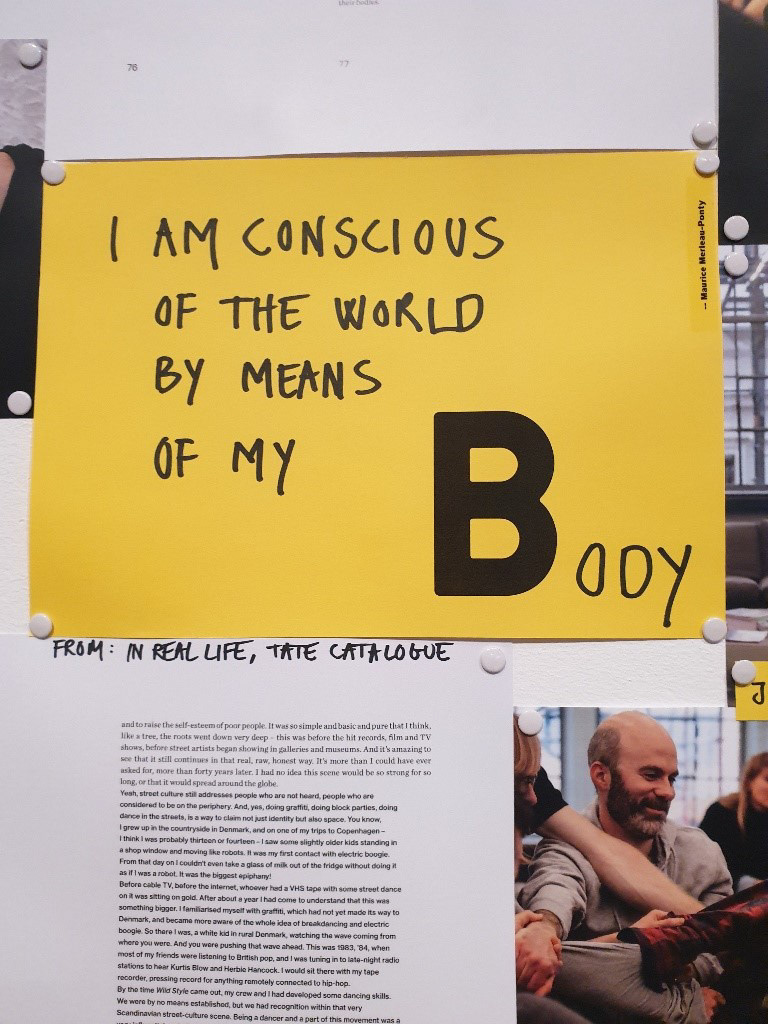 ​​​​​​​
A tunnel exemplifying pure ignorance and inaccessibility to those with disabilities became the fore front of exposed criticism this exhibition and Tate, themselves, received. Ciara O'Connor, a journalist for the Irish Independent expressed her thoughts regarding the specified piece on social media. O'Connor wrote a series of statements directed at the Tate exposing the ironic methodology this exhibition exuberated. In one of the statements she wrote:
At the end, there's a whole room dedicated to a mirrored tunnel: you're meant to walk through it. It had two steps up to it. In the grand scheme of supremely inaccessible London, it barely registered… Alice

asked the attendant if there was a ramp available… He was immediately cross and weirdly defensive: 'No,' he said, as if talking to a naughty & particularly stupid toddler, 'It's the curator's choice. There could be a ramp, but the curator chose this. It's not up to me.' And then: 'You can go around the side.

[19]
Accompanying O'Connor was her friend Alice who experienced the level of unfairness in the taking part of viewing the installation that was subjected. In a state of exemplified press releases conversing about interactivity, experience and situating bodily forms to undergo immersivity, this encounter incorporates a stench of irony. Eliasson's exhibition also featured a studio-like room at the culmination of the show. This room was dedicated to walls plastered with snippets and quotes relative to his morals, ideologies and processes. Some of which displayed a sense of hypocritical nuances regarding experiencing the gallery space (fig.6) Evidence of apparent bodily consciousness that supposedly Eliasson considers. The Tate Modern did in fact respond to O'Connor's tyrant of criticism with somewhat of a liquidised and automated reply.  
​​​​​​​
Eliasson has been known to converse about the inclusion of wanting to create a
holistic perspective on what it is perceived to be a human being.

[21]

Holistic, when applied to his work means a considerate approach for the realisation of large installations through making sure that the treatment of the audience is applied. This is suggestive of the way in which Eliasson creates his installations arguing that one of his soul purposes for creation falls reliant on the beholders experience. The enablement his narrative or understanding of the space in which both art object and human exist, is portrayed as a sense of reality manipulation. In this circumstance, the presence of holistic consideration is far from evident.
A Tate spokeswoman expressed her apologies for the lack of access; further suggesting that the gallery had taken the comments on board and went on to state:
We are very sorry that there is no wheelchair access to Your spiral view 2002. We had looked into whether the work could be made accessible but, even if a ramp were added, the mirrored walkway that is an integral part of the sculpture is structurally too narrow to be made safe for wheelchair use. In response to recent comments, we revisited this with the artist and technicians to see if there were any other viable options. However, after a full assessment, unfortunately the work cannot be made safely accessible for wheelchair users.

[22]
This apologetic statement exemplifies an amalgamation of disappointment. The discovery of inaccessibility led to researching the galleries ethics and their morals as an institution. In a document entitled Tate Ethics Policy (2020), which mainly converses about financial morals and aimed towards the institutes staff, states that they have a duty to the public to be transparent and accountable, and always to act in the public interest.

[23]

On the Tate website regarding their diversity and inclusion policies it states:
We aim to create a supportive and inclusive environment where everyone can feel comfortable to be themselves and be their best.

[24]
The Tate Modern as a gallery is a globally known franchise regarding art, situated within the United Kingdom, with London homing two of the galleries.

[25]

This realisation falls short of awareness and inclusion considering the status of such prominence.

Although relating to working with the company, this statement should be appointed to the realisation of exhibitions, especially when a prestigious-visiting artist's profound methodology is reliant on the foundation of inclusivity and experience. This leads the discussion to converse the aspect that O'Connor stated within her criticism regarding the curator's choice.
Authorship and accountability fall on the shoulders of the organiser and predominantly the curator. In this circumstance; the curator is noted as Mark Godfrey, who curated and organised the same exhibition at the Guggenheim Bilbao museum alongside curator Lucía Agirre.

[26]

This second installation of Eliasson's work will be exhibited from February 2020 – April 2021. The common denominator for both exhibitions being, Mark Godfrey who allegedly worked closely with the berlin-based studio Eliasson creates in.

[27]

To pinpoint fault and to push blame on an individual such as Godfrey, is difficult when the organisation of the exhibition consisted of a multitude of people. The site the exhibition was displayed is just as eligible for criticism as an individual regarding architecture and institution.
Since the latter of the nineteenth century, the art world has shown a heightened awareness of installation design

[28]

and such awareness has become a staple of critical analysis throughout theorists' writings. The next part of this essay will discuss the ideology of institute as a construct. This terminology has been mentioned within this text to discuss and expand on Eliasson's understandings regarding of the gallery's space. However, the walls of a gallery encapsulate more than just a ninety-degree-designed-skeletal structure and other aesthetic judgement. As stated in Paul O'Neill's book, The Culture of Curating and the Curating of Culture (2016):
…exhibitions always need to be understood as institutional utterances within a larger culture industry.

[29]
The term culture industry has been forwarded to discussion regarding curation as a medium of artistic practice when conversing about the exhibition as a form.

[30]

Culture industry was a term implied as a conjunction of bureaucratic and economic agencies associated with the provision of entertainment, popular media and the mediation of mass media, a term coined by Theodor Adorno and Max Horkheimer.

[31]

 The term means that culture industry was best describing just how popular culture had become in capitalist society functions in producing standardised products which essentially produce standardised people.

[32]

A case can be made that through a capitalised structure the limit of experience is upmost ambiguous and simply a suggestive thought that helped sales; as the display resembled a failed attempt at reaching press release expectations. To suggest the display was merely hap-hazard in placement is a stretch as each work was methodically dedicated to a room for a function. The choice of placement was not random, yet the accessibility was non-existent if you were not able bodied. The finalisation exuded wealth and exposure as opposed to displaying an artwork.
The exhibition portrayed elements of failure through the technique of display as a result of finalisation. Understandably, the public gallery will have an influx of visitors and certain time slots throughout the day will witness a spike in footfall from members of public; yet this sought desire for wanting to present an array of artworks to all, fails to represent the very purpose of Eliasson's creative-holistic methodology. Utilising O'Doherty's writing regarding the ideology of the white cube, he mentions that how art is experienced is more so a reflection upon the space the artwork is situated within

[33]

. Disconcerted with the idea of experience but more so inclusive of the thought of encountering. When confronted with a spiralised structure or a swarm of individuals; the work is more so existing as an absolute as opposed to categorically belonging and become a structure of pure immersion. Without disregarding the craft entirely; the installations became more so a space filler as opposed to a phenomenon. It is as if Eliasson's work became more so the décor of the white walls and wooden floors. This was evidently witnessed within two of his artworks that became disregarded in experience.
Another featured creation, Your Uncertain Shadow (2010) (fig.7) was situated within a white cubed room, inclusive of a projector sat on the back wall. The aim of this piece was to encounter your shadow illustrated as an illusionary array of multi-colour, painted on the wall with light as a medium, akin to a mural. However, due to the congestion of people, the experience documented within Tate released imagery was far from apparent. As pictured in figure 7, it is evident that the room inhabited a multitude of beholders. Becoming immersed and existentially situated within this installation proved difficult in order to accommodate the very purpose of Eliasson's creative methodology. Eliasson discusses this artwork in the interview with Dezeen and suggests the people in the room are in fact the producer of content.

[34]

This statement is evidence of Eliasson's desire to include the beholder as the main contributing element to the completion of his works. Furthering this statement, it can be concluded that the important factor within this artwork is to hand the narrative of authority of art to the beholder.

[35]

A conflicting statement when reflecting on the display techniques that were utilised. Another failed display technique is relative to the Big Bang Fountain (2014) (fig.8) After having to wait for nearly ten minutes within a queue that snaked around the galleries two rooms, the limited time to view the piece limited the ability to immerse yourself within his creation. Understandably, for foot fall sake, this technique was utilised to emphasise gallery flow, however, this technique is incredibly restrictive when allowing for beholders to experience the artwork.
​​​​​​​